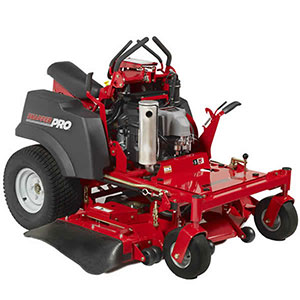 Vanco Outdoor Equipment carries a full line of Snapper Pro commercial mowers, including zero turns and walk behinds. With powerful engine choices, heavy-duty components and technology, live the iCD™ Cutting System – Snapper Pro mowers are the smart choice for your landscaping needs.
Snapper Pro's Innovative iCD Cutting System
The iCD™ Cutting System is engineered to produce the very best possible cut in all sorts of conditions. Every component works together to achieve an unmatched cut quality. The baffle design and deep deck allow for better airflow and the wide opening allows for a more even and wider dispersal of clippings. The Snapper Pro's exceptionally strong 1/4″ thick Marbain steel blades generate greater lift for a precision cut and require less frequent sharpening.
Key Features
Flexible recycled rubber discharge chute reduces contact damage
Extra wide discharge opening evenly disperses grass clippings
Multi-layer heavy-gauge steel construction for  maximum strength
Reinforced leading edge provides protection where the deck needs it most
Center point is offset, optimizing airflow for discharge
Slope nose design reduces the amount of clippings discharged from the front
Deck step allows for easy entry and exit from the operator's compartment
Visit our Henderson, NC Showroom
Visit Vanco Outdoor Equipment's Henderson, NC showroom to see for yourself what makes Snapper Pro a solid choice for commercial lawn maintenance. Get Directions or send an email to our sales staff on our contact page.
More Shopping Options
Download Snapper Pro Product Catalog or Visit our Snapper Pro Dealer Page