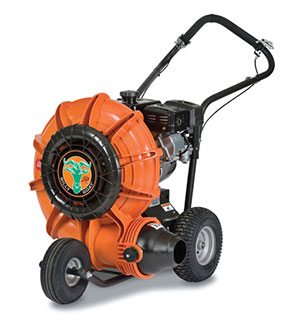 Looking for professional quality lawn clean up products look no further than Billy Goat lawn equipment and leaf blowers on sale at Vanco Outdoor.  Billy Goat's reputation for innovation, and quality products has been unmatched for over 40 years, and they have you cover all year long.
In the spring, Billy Goat's dethatchers, aerators, over-seeders, sod cutters and chipper vacs make short work of spring time clean up.
In the summer, turn to the signature HomePro mower. Or, if you are tackling tall grass or brush, consider Billy Goat's High Weed Mower or Outback brushcutter.
And, after the heavy leaf drops in the fall, haul out one of Billy Goat's leaf blowers or go for the gusto with their lawn and litter vacuums – some of the most powerful in the industry.
Visit our Henderson, NC Showroom
Visit Vanco Outdoor Equipment's Henderson, NC showroom to get a first hand look at Billy Goat's high quality lawn maintenance products. Get Directions or send an email to our sales staff on our contact page.
More Shopping Options
Visit the Billy Goat Online Catalog to see the full line of Billy Goat products.